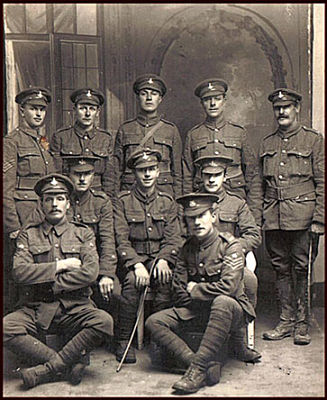 Men of the 4th Battalion. CQMS Jackson, bottom row on the left. Others not identified.

---
The reorganisation of British Divisions took place with Infantry Battalions being reduced from 12 to 9.
It was becoming harder to find personnel for reinforcements.
The 4th Yorks Btn were not affected, but the 7th Btn Northumberland Fusiliers, 9th Btn D.L.I. and the 5th Btn Border Regiment were transferred to other Divisions.
The 150th Brigade was now formed by the 4th and 5th Yorks Btns and the 4th East Yorks.

14th to 20th FEBRUARY.
Btn was relieved by 8th Btn D.L.I. and after 4 days back at St Jean Camp, Potijze, Ypres they were back to relieve 6th Btn D.L.I in Support trenches. Weather was frosty but fine, the Front was quiet and the health of the men was "excellent".

21ST FEBRUARY to 8th MARCH
Relieved at night and next day were moved by train to Wizernes, way behind the Front to the South West of St Omer. From there they marched to Esquerdes, "where the inhabitants gave us a warm welcome. They had never before known the same Btn to return to the same village - Tres Rare."
The Btn had seen the last of the Ypres Salient. They stayed at Esquerdes until the 8th of March.
During February only 4 other ranks had been wounded and 5 Officers and 155 other ranks had been received as reinforcements.
---
35134 Pte Downs Reginald, Ernest. Home at Ryhall, Stamford, Lincs. Born at Kettering and enlisted at Northampton. Died of wounds on the 15th Feb Age 18. Buried at Wimereux Communal Cemetery. Ex Northants Regt.
---
9th MARCH.
The 50th Division joined the Fifth Army on the Somme. The 4th Btn were at Guillaucourt.