2nd MARCH.
---
2Lt George Hanley Hutchinson.. Age 28. Y Company. Killed in action. Age 28. Born Catterick, N Yorks in 1888.
The son of Teasdale Hilton Hutchinson and his wife Gertrude. He had joined the 4th battalion in Belgium on May 12th 1915 while they were in reserve trenches at Brandhoek. He fought on the Menin Road during the great German gas attack of Whit Monday 1915. Whilst the Battalion were at Armentieres on October 27th 1915 Lt Hutchinson was selected with a party of officers and men to take part in a review by King George at Bailleul. In February of 1916 during the "Operations at the Bluff" just outside Ypres some trenches were lost to the enemy resulting in an order on March 2nd for an attack to retake lost ground. At 5-30am "The Bird Cage" was trench mortared and a mine blown under the enemy line. Lt George Hanley Hutchinson was killed in the fighting that followed. His grave today lies in Poperinge New Military Cemetery.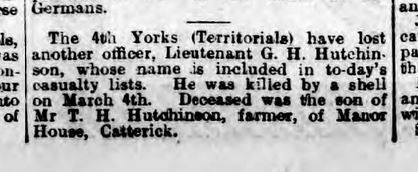 2Lt George Hanley Hutchinson was the brother of Lt Teasdale Hilton Hutchinson, who was named after his father and was also an Officer in the 4th Yorks [photograph on page 4]. He survived the War, but as Captain, he was wounded on the 27th May 1918, when the Battalion was virtually wiped out on the Aisne.
---
2741 Pte Mitchell Albert. Home at N Ormesby, Middlesbrough, N Yorks, place of enlistment. Born at Stockton on Tees.
Killed in action. Buried Maple Copse Cemetery.
---
1812 Pte Tyreman William. Home at Brompton, Northallerton, N Yorks, place of birth and enlistment. Killed in action. Age 23. Buried at Maple Copse Cemetery.
---
William's 18 year old brother, Fred, had been killed just four days before.
They had joined up together, having consecutive Battalion numbers and served in the same "Z" Company.
Will had written home on the 28th:-

"Dear Mother, Sisters, and Brother, It is with a heart nearly broken that I write these few lines home to you to tell you of the sad news of poor Fred being killed on Sunday, the 27th. Mother, I hardly know how to tell you of the dreadful news......
Well Mother, I cannot tell you more, as I am nearly done up and my eyes are nearly closed, but be brave and ask the Lord to help you.
Hoping you will write back by return with news from home. Will write more tomorrow telling you all. I remain, Your broken-hearted Son."



Wimeraux Communal Cemetery.
Situated about 5k North of Boulogne.
It was used as a Hospital cemetery.
5 men of the 4th Yorks Battalion are buried here.
[Picture courtesy of - "WW1Cemeteries.com".].

---




The Tyreman brothers. 1812 William was killed just 4 days after 1813 Fred. They were buried side by side in Maple Copse Cemetery. Later shelling destroyed their graves and memorial stones record the fact that they lie "somewhere" in the Cemetery.

[Photograph kindly contributed by Mick Trainor of New Marske, N Yorks.]

---
Capt Sproxton wrote on the 3rd:-
"B.E.F.
Dear Mrs. Mitchinson,
After my letter of two days ago I hardly know how I can tell you that your other brother William George Tyerman, who was in this Company, was fatally wounded in the early hours of the 2nd, and died a short time afterwards in the Dressing Station. He suffered no pain as the bullet went clean through his lung. He is buried side by side with his brother and the Christian Burial Service was read over both.
I write to you rather than to his Mother because I understand that she is ill in bed, and I am sure that you will be able to break this news far better than I could in any letter of mine.
I cannot say how grieved I am that this double tragedy should have fallen on Mrs. Tyerman at such a time. Please express the most heartfelt sympathy of the Company, Officers and Men - for both boys were very popular.
By this time you will have received William's letter on his brother's death. That letter will be proof enough to you that he also died a good Christian and a good soldier.
May God be with you all at this awful period."

[Information courtesy of - Northallerton Memorials Project.]
Diagram of zig-zag lay out of trenches for advantages given on page 11.

---

---

3893 Pte Forth Bertie Home at Ainderby Steeple, Northallerton, N Yorks, town of enlistment. Died of wounds. Age 18. Buried at Railway Dugouts Burial Ground.

---

A further demonstration was ordered at 5.32 a.m. The Bird Cage opposite was trench mortared and mine sprung.
The enemy retaliated and "enfiladed" [The Bn was in the difficult situation where the Germans were in front and to the left, enabling them to fire down the length of the trench] our trenches the whole day.



Cross section of general trench pattern to show the relative placings of Reserve, Support, Cover and Fire Trenches.
Over the course of the War, Trench construction was turned into a fine art, with all kinds of ground and weather problems to surmount.

---

Lieut G.H. Hutchinson was killed and 12 other ranks wounded.

3rd MARCH. The 2 Companies of the Bn in the front line were relieved by the two in reserve.

8th MARCH. 2nd Lt K.L Harris was injured on the 5th, but otherwise all was quiet. On this day the Bn were relieved by the 8th Bn The Buffs.

11th MARCH. 500 Private E. Broadley of the 4th Battalion was awarded the Distinguished Conduct Medal "for conspicuous gallantry [on the 2nd May 1915] and devotion in attending to and removing the wounded to safety on many occasions." London Gazette.
Report 18th March 1916 of presentation:-

Pte Elijah Broadley, of the Skelton Company of Territorials, who is the first member of the Cleveland Miner's Association to win a distinction in the War, and whose home is in Ruby St, Saltburn, had a rousing welcome from the Territorials at Northallerton yesterday, when he received the decoration of the D.C.M. from Lord Southampton.
Pte Broadley was a stretcher-bearer in the 1st line of the 4th Yorks and he exhibited great bravery on several occasions, particularly on the 2nd May, at Horse Shoe Bend, Ypres, when he went out alone in front of rifle and shell fire and recovered a number of wounded who he placed in shell holes, where he attended to them.
Breaking down in his health, he was sent home a short time ago and he is now working at Spawood Mine, Guisborough. He is a married man, 50 years of age, and has a family.
The soldiers [of the Reserve Battalion] raised Pte Broadley shoulder high and led by the Band playing patriotic airs, they marched through the main streets of Northallerton to the North End and back.

14th MARCH. On the 9th the Bn had moved to a Hop Factory at Poperinghe, where they rested in billets and on this day they were brought back by train and went back into close support near Armagh Wood.

15th MARCH.
---
1762 Pte Robinson Alan. Home at Coatham Redcar, N Yorks place of birth and enlistment. Died of wounds. Age 23. Buried at Wimereux Communal [Hospital 5k North of Boulogne] Cemetery. Newspaper notice -

ROBINSON - Died of wounds, at Wimereux, France, on the 15th March,
Signaller Alan Robinson, 4th Yorks, aged 25 years, beloved son
of the late Alan and Margaret Robinson, 73 High Street, Redcar
[late 17 Queen St]. Deeply mourned by mother and brothers.
---



Major Lindsay Alfred Barrett.

---

17th MARCH.

---

Major Lindsay Alfred Barrett M.C. was killed in action, age 23,
"He was shot through the head and killed instantaneously while going round the trenches preparatory to taking over on Hill 60."
He was the youngest son of Charles Rollo Barrett of Whitehill Hall, [one source says Pelaw House] Chester-Le-Street, Co Durham; a Justice of the Peace and Chairman of the Durham County Recruiting Committee. His Mother was Mary Delmar, the daughter of Alfred Barry.
He had been born at Seaham, Co Durham on the 8th July 1891 and educated at Alnmouth Preparatory School, Wellington College.
From there he went straight to join the Regular Army by entering the Royal Military College, Sandhurst.
He was gazetted as a Second Lieutenant in the 1st Battalion of the Northumberland Fusiliers on the 15 March 1911 and served in India.
He went to France with the British Expeditionary Force on the 13th August 1914 and was promoted to Lieutenant on the same date.
During the retreat from Mons he acted as galloper to his Brigadier.
From November 1914 to May 1915 he was Adjutant to the 1st Battalion and from then to December 1915 he was Adjutant of the 6th Bn Northumberland Fusiliers.

On the 1st January 1916 he was appointed to the Divisional Staff as Temporary Major and assumed Command of the 4th Yorks Battalion.
He had been mentioned in Despatches on 17 Feb 1915 and the 1 Jan 1916 was awarded the Military Cross.
He is buried in Poperinghe New Military Cemetery.
The Adjutant of the 4th Yorks wrote:-
"The way he put his heart into the Battalion, after it had been badly knocked about, was extraordinary and we all think that it was a very great honour to have been commanded by him"
---
Lt R.M. Howes and 29 other ranks joined the Bn.

18th MARCH. Major F.F. Deakin took over command of the Battalion.
2 other ranks were wounded.

Mrs Jane Garrett of Chapel St, Brotton, has been informed by the War Office that her son, L/Cpl Sidney Garrett, of the 4th Yorks, is in Hospital at Boulogne. He has been wounded in the head.

19th MARCH. 2nd Lt Brentnall and 80 other ranks joined the Battalion.
---
4757 Pte E Callaghan , aged 32, died. Buried at N Ormesby RC Cemetery, Middlesbrough.
---
20th MARCH. Relatively quiet but German Trench Mortars into number 47 Bombing sap killed 3 other ranks of "Z" Company. They are all buried in Railway Dugouts Military Cemetery.:-
---
2857 Pte Hansell R. Stanley. Home at 5 Arundel St, Redcar Yorks, town of enlistment. Killed in action. Age 20.
Mr and Mrs Hansell, of 5 Arundel St, Coatham, have received a letter acquainting them with the death of their son, Pte Stanley Hansell, who was killed by a German trench mortar bomb whilst serving the 4th Yorks in France.
Ground plan of Trenches.

---

Pte Hansell is deeply regretted by the Officers and lads of the Coatham Company of the Church Lads Brigade, of which he was a most enthusiastic memmber.

---

1479 Pte Walker Charles. Home at Brompton, Northallerton, N Yorks, place of birth and enlistment. Killed in action. Age 20.

---

3032 Pte Wilbor Richard. Home at Black Swan Yard, Northallerton, N Yorks, place of enlistment. Killed in action. Age 21. "Z" Company

---

20th MARCH. The Bn were relieved in the Front line by the 5th Bn Northumberland Fusiliers and moved back to Support trenches.
There it was quiet and they provided working parties until moving on the 25th back to Canada Huts at Dickebusch.